It's been a long while ago since we released the last version. I'm sorry but finally we got it. The biggest improvment are bug fixes, hughh. But!. We also improved some little UX things and also brought you more flexibility in the chart tool. Exploring your data is now awesome! Feel like a data scientist.
Download Version 4
Website Ranking Checker (ZIP-archive)
Version: 4.0
Uploaded: 26.08.2017
WebsiteRankingChecker.zip
Komprimiertes Archiv im ZIP Format
3.2 MB
Chart items
Many of you wished to select the number of chart items. Here you go. Now you are able to select 10,50 or all items in your database. By default there are always 10 items viewed. We also changed the look of the graph. Now the lines are smoother and not that straight anymore.
Updater fixed
Somehow on Windows 10 the updater stopped working. This is now fixed in Version 4.
Menu Buttons
The menu buttons are now better in terms of visibility. Also improved the look and feel of Table/Settings. It's now easy to see which view is active.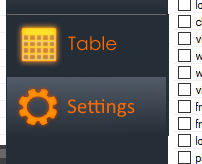 Custom countries
This was also many of you wanted to have. Now it's possible to set all you countries in the wrc.ini file. So just extend COUNTRYCODES in the way you need it. Now you can select them in the New Search window.
Fixed searching errors
Often WRC just crashed. This should now happen more less ;)